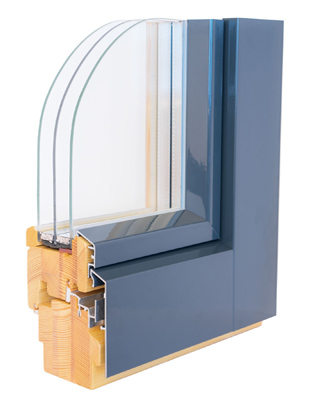 Today, wood-aluminum windows are all but the best type of windows for both a rural house and city apartment. It is so because they combine the benefits of wooden and aluminum windows and compensate for each other's drawbacks.
Protection of woood
It is a well-known fact that moist is bad for wood, as it causes wooden windows to gradually warp, rot, and become infected with germs. Wood-aluminum windows have no such problems: the wooden part is well shielded by a layer of aluminum, which is almost impervious to these influences.
Advanced thermal insulation
While wooden windows have a fairly high thermal insulation capacity, it is a weak spot for aluminum. Thanks to special thermostatic breaks, these complex structures boast higher thermal insulation capabilities and prevent the appearance of condensate between the aluminum and wooden parts. These two materials are separated by a layer of polyamide. It is a man-made material has a low thermal conductivity and improves wood-aluminum windows' performance characteristics.
Better sound insulation
Along with thermal insulation, wooden windows have more pronounced sound insulation properties. However, the aluminum part adds a bit of sound insulation. This provides a reliable shield against all sorts of noise (which is particularly important for town residences). The aforementioned polyamide gives an extra boost to a wood-aluminum window's acoustic insulation capacity.
Eco-friendliness
Wood windows can create an extra healthy microclimate in your house. Pine, larch and other woods contain tars, whose vapors are good for the immune system, make you feel well and even brace the body up for fighting against various unhealthy influences ranging from bacteria and emotional stress.
From this standpoint, wood-aluminum windows share the benefits with wood windows.
Exquisite beauty
Wood-aluminum windows can be made of any type of wood. For example, interiors that feature pine elements (connecting doors, furniture, etc.) can be complemented by windows made of high quality pine profiles. If the interior is tailored for oak, larch, meranti or beech, material for windows can be chosen according to a customer's preferences.
The outside window (the aluminum coating) can be of any color from the RAL chart or even imitate a wood grain pattern. It creates opportunities for for styling facades of privately owned houses and/or bringing uniformity to those of multi-story buildings.
Security
Wood-aluminum windows are highly resistant to break-ins, particularly those featuring a special kind of fittings. Futura uses high-quality fittings from famous German brands, which will protect your home against unwanted guests.